Czech Republic Signs LOA with US for Four AH-1Z and Eight UH-1Y Helicopters
Czech Republic has signed a Letter of Offer and Acceptance (LOA) with the U.S. to procure four AH-1Z and eight UH-1Y helicopters.
The LOA was inked by U.S. Secretary of Defense Mark T. Esper and Czech Minister of Defence Lubomír Metnar.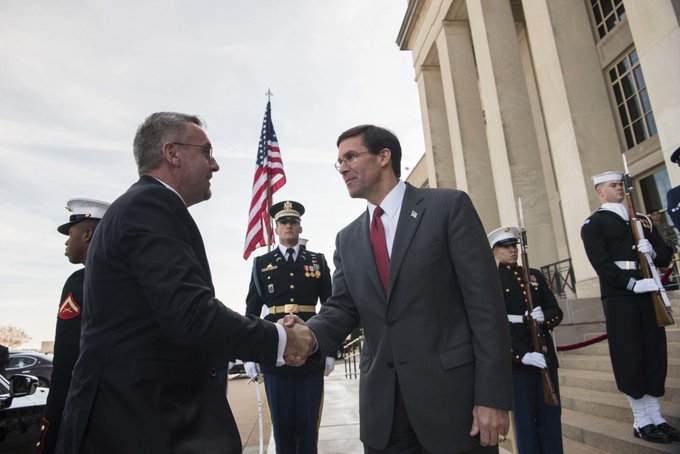 It was announced in August that Czech Republic will procure 12 military helicopters from U.S. aircraft manufacturer Bell in a deal priced at 14.5 billion crowns ($622 million). The deal will include eight UH-1Y Venom utility helicopters and four AH-1Z Viper attack helicopters, along with support and weaponry. The contract with Bell is expected to be signed soon.
The purchase of four AH-1Z and eight UH-1Y military helicopters represents the first foreign military sale of a mixed H-1 fleet. Bell anticipates the delivery of the first H-1 aircraft to the Czech Republic will begin in 2023 and complete delivery by 2024.
"We are privileged to support the Czech people and applaud the Ministry of Defence and Armed Forces of the Czech Republic for selecting AH-1Z and UH-1Y helicopters", said Vince Tobin, Executive Vice President of Bell's Military Business.
"This mix allows the Czech Republic to accomplish a diverse mission set, from humanitarian assistance and disaster relief to close air support and air-to-air warfare," said Joel Best, Director of Military Sales and Strategy, Europe. "The advanced capabilities of the H-1 program help ensure the safety and security of Czech sons and daughters for years to come."
The Czech Republic was considering either 12 UH-60M Black Hawk helicopters from Lockheed Martin's Sikorsky division or a mixed fleet of UH-1Y/AH-1Zs to replace its ageing Mi-24 attack/troop transport helicopter fleet.
The sale of 12 UH-1Y utility helicopters to the Czech Republic was approved by the U.S. State Department in October 2017 while the sale of four AH-1Z attack helicopters, along with 12 UH-60M Black Hawk utility helicopters, was approved in May this year.
Bell AH-1Z Viper is an American twin-engine attack helicopter and UH-1Y Venom (also called Super Huey) is a twin-engine, medium-sized utility helicopter.
The helicopters are based on AH-1W SuperCobra and UH-1N Twin Huey respectively and were developed by Bell under the H-1 upgrade program of the U.S. Marine Corps (USMC). Even though superficially different from each other, the helicopters have 84% parts commonality.