India's HAL, CSIR-NAL Team Up to Develop Saras Mk2 Light Transport Aircraft
India's Hindustan Aeronautics Limited (HAL) has signed a memorandum of Understanding (MoU) with the National Aerospace Laboratories (NAL), which is under the Council of Scientific and Industrial Research (CSIR), for the development of Saras Mk2 light transport aircraft.
The MoU was signed during the Wings India 2020 event at the Begumpet Airport in Hyderabad. Mr. MS Velpari, Director (Operations), HAL and Mr. Jitendra J Jadhav, Director, NAL signed the MoU in the presence of Shri R. Madhavan, CMD, HAL and other senior officials from both the organization.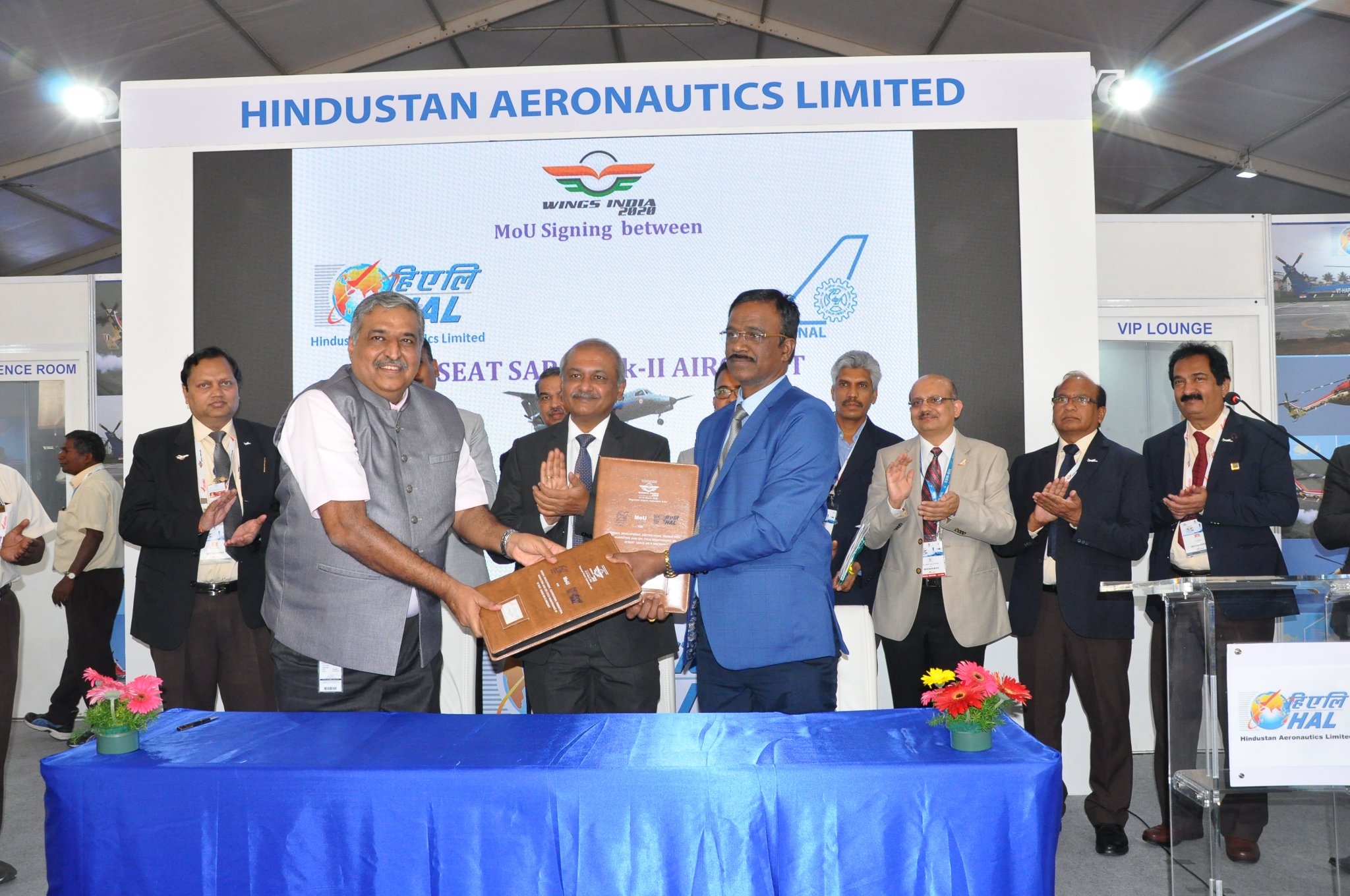 The NAL Saras (Sanskrit: "Crane") is the first Indian multi-purpose civilian aircraft in the light transport aircraft category.
Saras is powered by two Pratt and Whitney Canada PT6A-67A turboprop engines (flat rated at 1200shp) driving 2.65 m diameter 5 bladed constant speed propellers at 1700 rpm in a pusher configuration.
The new Mark 2 version of the aircraft (Saras MKII, Saras Mk2) will be a 19-seater aircraft instead of a 14-seater proposed earlier. The Mark 2 version has considerable drag/weight reduction with unique features like high cruise speed, lower fuel consumption, short landing and take-off distance, low cabin noise, operable from high and hot airfields, with a pressurised cabin, operable from semi-prepared airfield and low acquisition and maintenance cost.
The Saras Mk2 aircraft will be certified initially for the military and subsequently for a civilian version. The aircraft will be capable of performing missions such as executive transport, light package carrier, remote sensing, aerial search/survey, coast guard patrol, border patrol, air ambulance, etc. The civilian version will be used for regional connectivity service between Indian tier-2 and tier-3 cities.
Saras Mk2 Proposed Specifications:
Dimensions and Performance:
• Span: 16 m (52.5 ft)
• Length : 15 m (49.2 ft)
• Height: 5.1 m (16.7 ft)
• Max. take-off : 7400 kg (16314 lb)
• Operating empty wt. : 4900 kg (10803 lb)
• Max. fuel weight : 1568 kg (3457 lb)
• Max. payload : 1710 kg (3770 lb)
• Take-off distance: 800 m (2625 ft)
• Landing distance: 880 m (2887 ft)
• Max. rate of climb : 10.6 m/s (2080 ft/min)
• Max. range (19 pax) : 800 km (432 nm) With 45 min reserve
• Max. range (10 pax) : 2050 km (1107 nm) With 45 min reserve
• Ferry range: 2170 km (1172 nm) With 45 min reserve
• Max. cruise speed: 540 km/hr (292 Kts)
• Endurance: 5 hours
Features
• Full glass cockpit: EFIS-Four PFD/ ND/ MFDs
• Comm/Nav suite: VHF-VOR and radio, ADF, DME, ILS
• Terrain Avoidance Warning System (TAWS)
• Flight Management System (FMS)
• Traffic Collision Avoidance System (TCAS)
• Autopilot and Weather Radar
NAL also has plans to develop larger aircraft family with HAL called the HAL/NAL Regional Transport Aircraft (RTA) or Indian Regional Jet (IRJ). The primary variant will be called RTA-70 which can carry 70 passengers on short flights.
The RTA/IRJ family will have three variants: the primary 70-seater variant called RTA-70, a shorter 50-seater variant, and an extended 90-seater version to be called RTA-90. The first two aircraft will be powered by two turboprop engines while the RTA-90 will also have an option of turbofan engines.