L&T Launches Indian Coast Guard's Third Vikram-Class Offshore Patrol Vessel
Indian shipbuilder, Larsen & Toubro (L&T) launched the third Vikram-class Offshore Patrol Vessel (OPV) for the Indian Coast Guard (ICG) at the company's greenfield defence shipyard at Kattupalli near Chennai on Aug. 28, 2018.
The ship, to be designated ICGS Veera (35), was ceremoniously launched by Sunita Nautiyal, wife of the Chief Guest of the ceremony, Additional Director General KR Nautiyal, PTM, TM, Coast Guard Commander – Eastern Seaboard.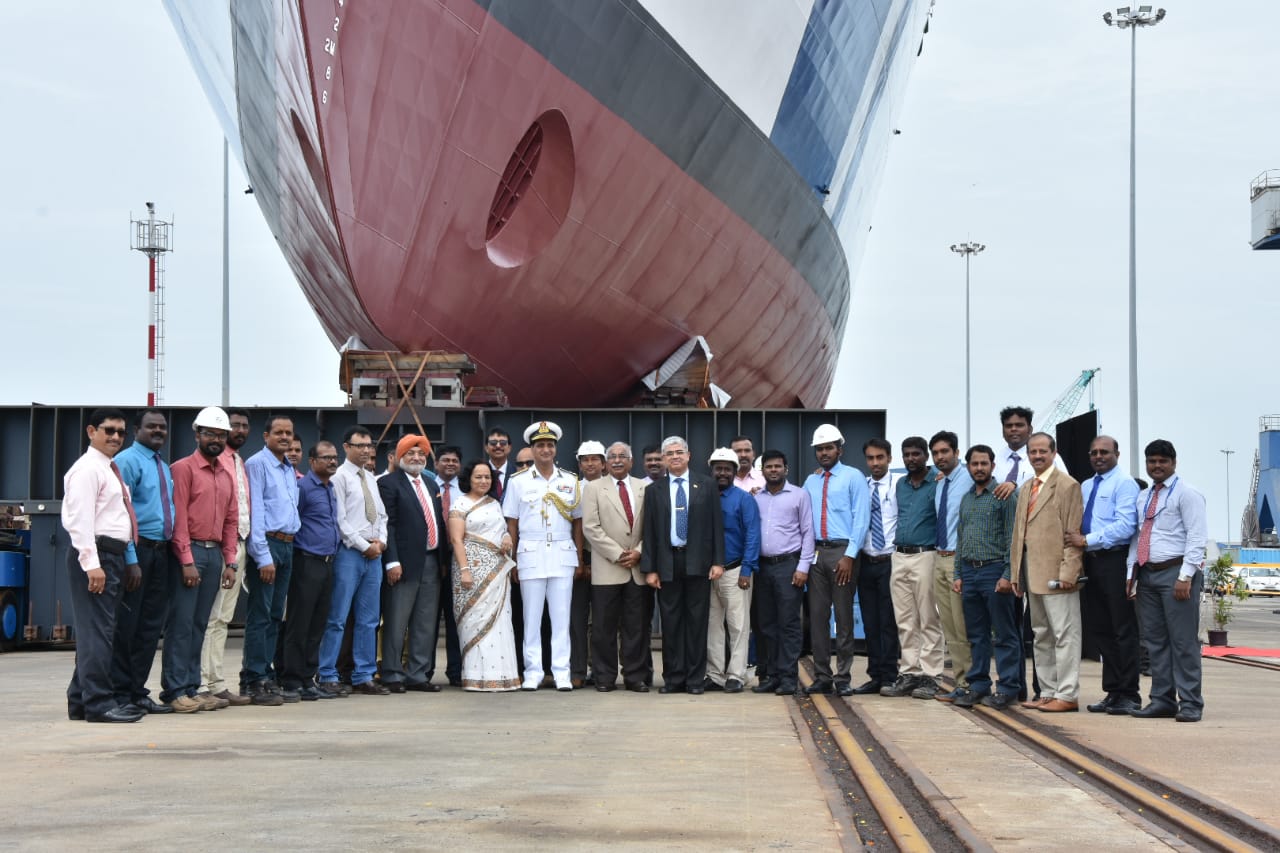 Larsen & Toubro is currently executing the Ministry of Defence Contract of 2015 to design and construct seven OPVs and deliver them to the Indian Coast Guard between 2018 to 2021.
L&T is the first private Indian shipyard to construct and deliver OPVs for the Indian Coast Guard. The company received the order valued at Rs 1432 crore (~USD200 million) for design and construction of OPVs from the Indian Ministry of Defence in March 2015. L&T plans deliver all the seven OPVs by 2021.
The first of the class, OPV-1 (ICGS Vikram) was launched in October 2017, handed over to the Coast Gurad in April 2018 and commissioned ahead of contracted schedule on April 11. The second of the class, OPV-2 (ICGS Vijaya) was launched on 20th January 2018 and was handed over to the Coast Guard on Aug. 30, 2018.
Currently, the work is simultaneously in progress on the OPVs 4, 5 & 6, that are at different stages of completion.
Vikram class OPVs are long-range surface ships, equipped to handle helicopter operations and capable of operating in Indian maritime zones including island territories. The role of the OPV is to conduct coastal and offshore patrolling, policing maritime zones, control & surveillance, anti-smuggling & anti-piracy operations with limited wartime roles.
The vessels are approximately 97m long, 15m wide and has 3.6m draught, 2,140 tonne displacement and a range of 5,000 NM. They can attain a sustained speed of up to 26 knots and are armed with a 30mm CRN 91 Naval Gun and two 12.7mm heavy machine guns (HMG) with fire control system (FCS).
The OPVs are built with Integrated Platform Management System (IPMS) to enable special control capabilities generally integrated in larger warships like frigates and destroyers. The vessels are fitted with front propulsion pods for providing an ability of high manoeuvrability. The entire design and construction process has been certified by American Bureau of Shipping (ABS) as well as Indian Registrar of Shipping (IRS) and were overseen by the Indian Coast Guard's resident team at Kattupalli.
Quotes
Commenting on the occasion, Mr. SN Subrahmanyan, MD & CEO of Larsen & Toubro said: "We are committed to nation building and focus on quality and ahead of schedule deliveries of the ships. Our Innovative technology solutions, customer orientation, dedicated infrastructure, expertise in complex project management, and prudent financial management ensure timely delivery of equipment and platforms to the Defence Forces. L&T is fully geared up to cater to a wider range of defence needs of the Indian armed forces, reducing dependency on imports."
Mr. Jayant D Patil, Whole-time Director (Defence) and Member of L&T Board, said: "With an impressive track record and reputation for in-house design, development and delivery of equipment, systems and complete platforms, we have gained the confidence of our esteemed customers. With a long-term commitment to the defence sector, we have made huge investments in the Kattupalli shipyard and eight other dedicated defence production units to serve the Nation. In the Indian shipbuilding scenario, we are uniquely placed for timely construction of complex defence platforms, concurrently and expeditiously. Built with a large Ship-lift, our Shipyard has a huge capacity for simultaneous handling of new construction as well as refit of multiple vessels."
Vice Admiral B Kannan (Retd.), MD & CEO L&T Shipbuilding, said: "Launch of the third OPV, ahead of schedule, indicates the fast pace of construction of vessels by our shipyard. Modern shipyard facilities, in-house design, modular construction, high level of preoutfitting, and innovative digital solutions enable the shipyard to surpass the customer expectations consistently."
L&T Shipbuilding
L&T has maintained a consistent and impeccable record of delivery of Defence Ships ahead of schedule since inception. Thus far, 40 Interceptor Boats have been delivered out of the series of 54 Boats being built for the Coast Guard and the remaining 14 are also ready for delivery, with the program being about two years ahead of schedule. The Floating Dock FDN2 for the Navy, designed and built for the first time in India, was delivered in March 2018 and is fully operational at Andaman & Nicobar Islands.
The Defence shipbuilding projects at L&T are befitting illustrations of 'Make in India', as OPVs, FDN and IBs have all been designed and constructed completely in-house, apart from being delivered to the defence forces ahead of contracted schedule, thereby hugely and promptly contributing to the nation's security infrastructure.
L&T's state-of-the-art defence shipyard at Kattupalli features a ship-lift system along with multiple dry and wet berths that enable concurrent construction of multiple ships. Building them modularly under covered workshops and finishing on building berths on land yields unmatched pace and level of completion before launch leading to faster induction in Defence services.