L&T Launches Indian Coast Guard's Sixth Vikram-Class Offshore Patrol Vessel, ICGS Vajra
Larsen & Toubro (L&T) has launched the Indian Coast Guard (ICG)'s sixth Vikram-class Offshore Patrol Vessel (OPV), the future ICGS Vajra (37), during a ceremony at L&T Shipbuilding's Kattupalli Defence Shipyard near Chennai on Feb. 27.
The vessel, with Yard no: 45006, was ceremoniously launched by Smt. Geeta Mandaviya, Wife of Minister of State (MoS) for Shipping, Mansukh Mandaviya in presence of the MoS; Krishnaswamy Natrajan, Director General of ICG and other dignitaries of the Central and State Governments.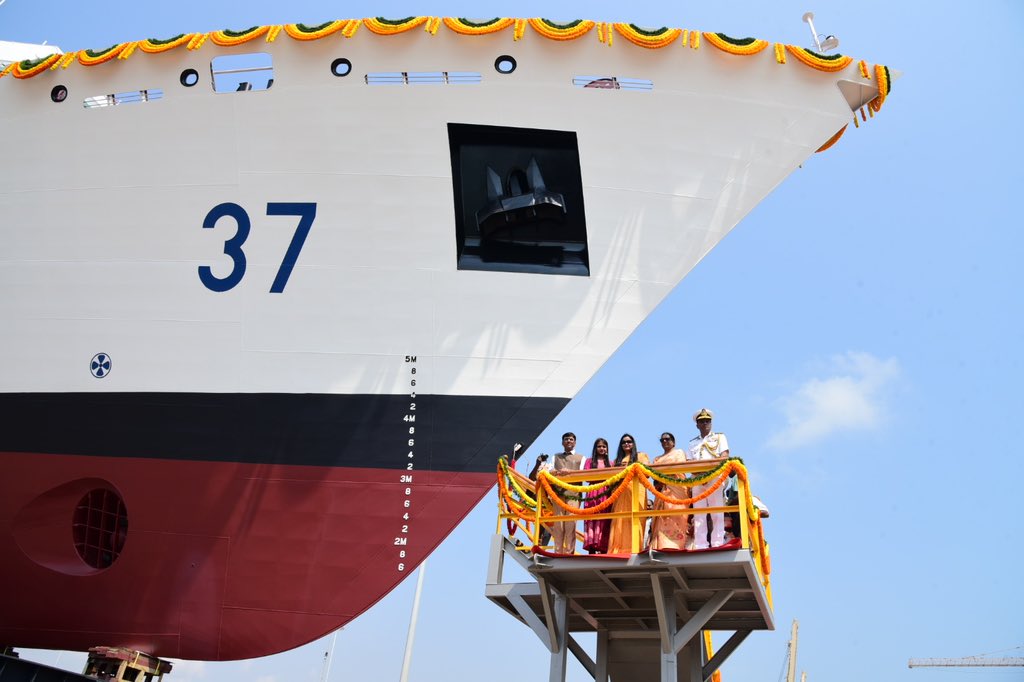 L&T received an order valued at Rs 1432 crore (~USD200 million) for design and construction of seven OPVs from the Indian Ministry of Defence in March 2015. L&T is the first private Indian shipyard to construct and deliver OPVs for the Indian Coast Guard and the company plans to deliver all the seven OPVs by 2021.
The shipyard has already delivered the first four OPVs which have been commissioned to the Indian Coast Guard fleet. These vessels are ICGS Vikram, ICGS Vijaya, ICGS Veera and ICGS Varaha. The fifth vessel of the class was launched on August 31, 2019. This was the 60th vessel built and launched by L&T for the Indian Ministry of Defence.
Vikram class OPVs are long-range surface ships, equipped to handle helicopter operations and capable of operating in Indian maritime zones including island territories. The role of the OPV is to conduct coastal and offshore patrolling, policing maritime zones, control & surveillance, anti-smuggling & anti-piracy operations with limited wartime roles.
The 2,140-tonne vessels are approximately 97m long, 15m wide and have a 3.6m draught. They can attain a sustained speed of up to 26 knots and have a range of 5,000 NM.
The vessels are armed with a 30mm CRN 91 Naval Gun and two 12.7mm heavy machine guns (HMG) with a fire control system (FCS).
The OPVs are built with an Integrated Platform Management System (IPMS) to enable special control capabilities generally integrated into larger warships like frigates and destroyers. The vessels are fitted with front propulsion pods (bow thrusters) for providing an ability of high manoeuvrability. The entire design and construction process has been certified by American Bureau of Shipping (ABS) as well as Indian Registrar of Shipping (IRS) and were overseen by the Indian Coast Guard's resident team at Kattupalli.